Nearby Attractions and Activities
Adaminaby
The nearby township of Adaminaby is famous for its 'Big Trout'. A 10m high Rainbow Trout made of fibreglass and steel. Standing proudly in the central gardens and picnic area, it has welcomed Adaminaby's visitors since the 60s.

Adaminaby has a hotel, bowling club, garages, motel accommodation, souvenir shops, restaurants, a wonderful bakery, the Snowy Scheme Museum and many other visitor facilities.
The original town was submerged in the 1960s as Lake Eucumbene slowly filled following the completion of Eucumbene Dam by the Snowy Mountains Authority. At that time Eucumbene dam wall was the largest earth filled dam in the Southern Hemisphere.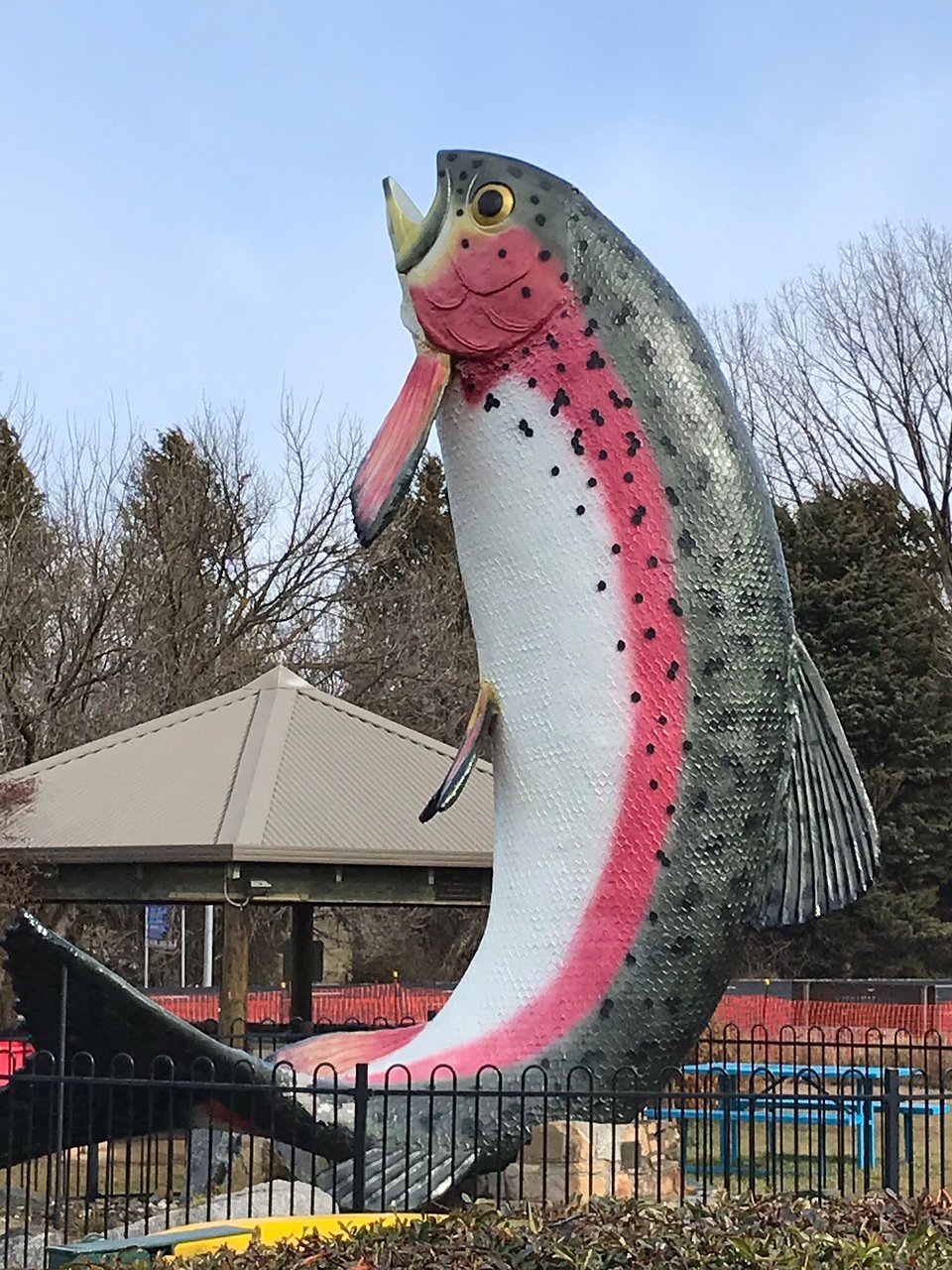 The Big Trout can be found in the central gardens of Adaminaby.
Some scenic drives you will enjoy…
15 minutes drive to…
The Big Trout, lawn bowls, swimming pool, horseriding, restaurants, cafes, coffee shops, hotel, newsagest, post office, museum and historic churches.
30 minute drive to…
Lama World, golf (Cooma), the histroic goldmining site of Kiandra, Selwyn Snowfields and Tantangara Dam.
45 minute drive to…
Eucumbene Trout Farm, Yarrangobilly Caves and thermal pool, Australia's highest town Cabramurra, Tumut 2 underground power station and cross country snowfields at Mt Selwyn.
60 minute drive to…
Snowy River Winery, Jindabyne township and lake, Snowy River Ag Barn, Eucumbene Dam, Tumut 3 power station and historic Nimmitabel Village.
90 minute drive to…
Walk to Mt Kosciuszko via Thredbo or Charlotte Pass, Main Range snowfields and Ski Tube. Scenic Route One – allow 6 hours.
For a 'feast' of Man from Snowy River scenery, try the circular trip on Route 1. This wonderful drive takes you through magnificent Banjo Patterson country from Anglers Reach, Kiandra, Cabramurra, Khancoban, Murray 1 Power Station, Thredbo Village, Jindabyne, Berridale, Adaminaby and home to Anglers Reach or drive it in the reverse direction.
Why you'll keep coming back to the mountains…
Australia has thousands of kilometres of coastline, all with beaches, but there is only one Alpine region in Australia. Anglers Reach elevation is 1300 metres above sea level, truly a sub-alpine area that offers year round activities for you and your family.